MAGENTO INTEGRATION SERVICES
While Magento is one of the most robust CMS platforms designed to meet eCommerce needs, it requires in-depth technical knowledge for project customization, fine-tuning, deployment, and maintenance. This is where the SiteGuarding.com team will help. It consists of programmers, engineers, web designers, testers, and architects who work with all major CMS systems including the award-winning Magento.
---
OUR MAGENTO INTEGRATION SERVICES:
Magento ERP Integration
Are you a small retailer looking for a toll to keep all your resources in one place or a huge enterprise in the need to organizing the global marketplace? It all starts with Magneto ERP integration. Working with CMS will be a tough challenge for non-technicians. The best bet is to opt for experienced SietGarding.com specialists.
Magento CRM Integration
We will help you to make the workflow as effective as possible thanks to the built-in. On the one hand, Magento offers seamless CRM integration. On the other hand, it requires proper configuration to make the platform meet your personal business goals. We will handle the setup and all the technical issues.
Magento Integration With Payment System
Benefit from instant payment processing and hassle-free integration process. There is no need to integrate payment gateway models manually. Let our programmers and coders do it for you. We have support for all major payment services including PayPal, Stripe, and others.
---
MAGENTO IMPLEMENTATIONS & INTEGRATIONS:
Third-party Apps Integration
Every website requires proper customization to ensure a high level of users' engagement. Magento is a complicated CMS in terms of third-party service integration and configuration. Our team will connect any service and ensure it runs smoothly despite the device or carrier.
Integration With Different CMS
Do you have your self-coded CMS or want your site work with other content management systems? No problem. SiteGuarding.com specialists will complete the website integration process with any other CMS platform.
Magento POS Integration
Point of Sale solutions are necessary for a very eCommerce project despite the size. Either you want to sell online a couple of products or conquer the global market with both online items and live merchandise, our engineers will integrate the most reliable POS systems to let you handle all operations effortlessly.
Magento Analytic Integration
eCommerce is a thing without analytics. While Magento does not support its custom analytic tools, you will need to use third-party services. We will connect and configure them for you to let users track sales, overview traffic channels, and monitor revenues.
Third Party API Integration
Make the most of third-party platforms that have already made a name on the global eCommerce arena. You actually get full control over the platform thanks to integrated API. Our engineers will help to customize the service to meet your project needs.
Site & Marketplace Integration
Once all the features and services have been successfully integrated, you may start selling online. The last thing you need is an interactive website with an intuitive marketplace, checkout page, and other crucial features. SiteGuarding.com web designers and architects will do their best to create responsive and engaging digital stores.
---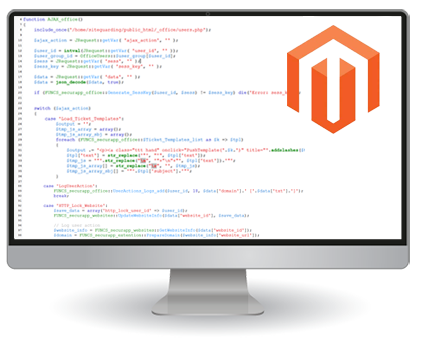 Magento CMS Integration
Launched in 2007, Magento is one of the most flexible and powerful CMS platforms. It was mainly designed to cover eCommerce needs. For this reason, it requires a professional setup and configuring. The system is open source. It means that users are free to make any changes but only in case of in-depth technical skills. If you are a non-technician, SiteGuarding.com is certainly the right place to visit. We complete all tasks o build, test, deploy, and support websites build with Magento.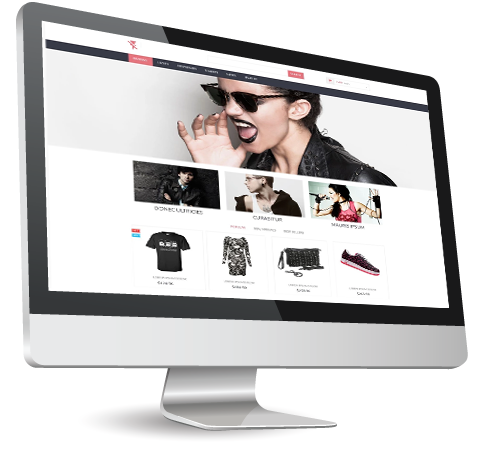 Magento Implementation Services
Magento is a CMS platform that mainly consists of modules and extensions. Although it has an intuitive WYSIWYG content editor, connecting custom and third party services will require a learning curve. We are here to save your time and do the customization for you. Our experienced Magento team works with all CMS extension versions. Coders and programmers will not only integrate necessary add-ons or widgets but also ensure their flawless operation. SiteGuarding.com specialists also handle API and CRM integration services, website configuration, etc.
---
Features and Benefits
International Experience
SiteGuarding.com is a pool of dedicated experts that boast a huge track record of successfully deployed projects worldwide. We work with enterprises and companies from different parts of the world.
Magento Development
Our team includes experienced Magento developers who are able to create custom software products and features to be integrated with your website.
Work Process Transparency
We use the Agile Methodology to ensure a clear and transparent development process. Our customers can track each phase and make necessary changes whenever needed.
---
Most Common Integrations We Have Done: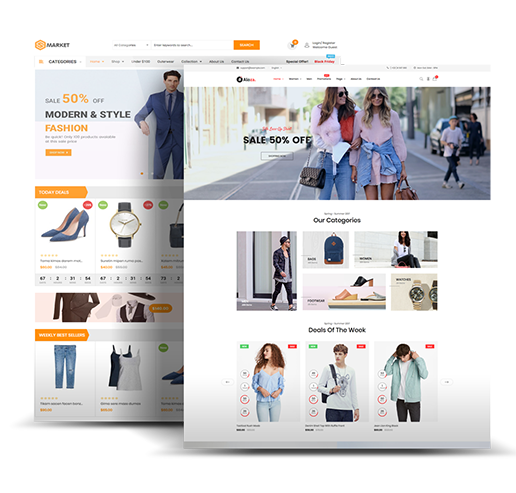 Social Media Integration
We let our customers benefit from a wider global outreach through social media channels. Our experts will handle the process of social media integration to let you grow big.
Third-Party CMS Integration
Looking for enhanced flexibility for your project? No problem. We will seamlessly integrate the existing CMS with Magento and vice versa. Our team works with all major platforms including WordPress, Drupal, etc.
Payment System Integration
Let your customers pay instantly without delays. Process transactions with zero manipulations. We will connect all major payment gateways including PayPal, Stripe, and more.