Bad Bot Protection & Website SPAM Prevention
Our module detects a bot or a real visitor trying to enter your site and blocks all possible malicious bots:
spam, parsing, brute force, vulnerability scan.
---
BLOCK BOTS IN 3 EASY STEPS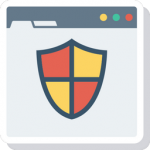 Protection From Bots & Scrapers
We have specially developed a module that blocks all possible attempts to scraping and copying the content of your site by harmful bots. Our module also protects you from hacker attacks, attempts to find passwords and scraping site pictures.

Content Usage Monitoring
Your content is transferred to our server, after which the daily / weekly automatic check of uniqueness turns on, and in case of detection of content theft, our module gives you and us a warning.

Bots Activity Analysis
More than 100,000 customers use our service. Every day, we analyze new malicious bots and enter them into our database. Immediately after installing our module, the server load drops by 30-50%, and the amount of spam is reduced by 90%.
GET FREE 14 DAYS TRIAL.
NO CREDIT CARD REQUIRED
TRY NOW
Features and Benefits

Server Load Reduction
The server load is reduced, which means that the download speed of the site for real users increases. This means that the behavioral factor, SEO position and sales are improving.

Website Scraping Protection
Our module blocks bots that steal your content and publish on their sites. Thus, you preserve the uniqueness of the content and pictures on your site.
Spam Block
Our module blocks more than 90% of spam bots that register accounts on your site, send spam via the feedback form, or post spam comments.
Protection From Hackers
Hackers scan websites in search of vulnerabilities and modules with bugs. Our module blocks all activity at the initial stage, and does not allow getting information for hacking.

BruteForce Attacks
When trying to select passwords for the administrator part of the CMS, or user passwords, our module detects a brute force attack and blocks all password guessing attempts.

XSS and SQL Injections
The module detects attempts at XSS attacks and SQL injections and blocks attempts to conduct them. Automatic bots will simply not be able to execute the necessary commands on your site.
Detect & Block Bot Traffic
This does not impact the real visitors of your site and bots of the necessary search engines (Google, Bing, Yahoo, etc).
Search engines just do not notice our script, and for visitors the check page is displayed for 1-2 seconds.
PROBLEMS WE SOLVE

Website Scraping & SEO
We will protect you from various kinds of parsers, and thus you will keep your content unique and prevent decrease in positions on Google and Bing.

Protection From Hackers
You can forget about scanning your site for vulnerabilities, trying to find passwords, or trying to gain access to hosting. Our module blocks all automatic scanners in the early stages of trying to access your site.

Protection From Competitors
We block all attempts by competitors to monitor your site, steal content, or undermine behavioral factors on your site.

Server Load Reduction
As soon as our module installed the load on the hosting and server is reduced by 30% -40%, and the page load speed for visitors increases by 60%
Protect Website From Bots
Our researches shows that 70% are usually bots, and only 30% are real site visitors. At the same time, only 10% of the traffic are useful bots, everything else are parsers of various types, hacker scripts and completely unnecessary directories and search engines. We do not just block unnecessary bots, we accelerate the site loading for potential buyers and improve behavioral factors on your site, which will certainly have a positive impact on the issuance of your site in search engines, as well as increase the number of visitors and sales.
As soon as a vulnerability is discovered in any CMS, hackers start scanning websites for this bug with automatic utilities. As soon as your site appears in the report of the script's operation, exploits are applied to it to obtain administrative rights and access to the hosting. Our bots protection module blocks 99% of such scanners and does not allow hackers to automatically check your website for vulnerabilities. In addition, it blocks 95% of all spam that can be generated on your site.
---
Bad Bot Prevention Pricing
Basic
3.95 USD/month
---
Price Per 1 Website
Blocking SPAM Bots
Blocking BruteForce Attacks
Web Scraping Protection
Bots White list Database
Monthly Database Updates
Website Performance Optimization
Email support
Response time 24-48 hours
Buy Now
Standard
9.95 USD/month
---
Price Per 1 Website
Blocking SPAM Bots
Blocking BruteForce Attacks
Web Scraping Protection
Bots White list Database
Weekly Database Updates
Website Performance Optimization
Website Antivirus Protection
Protection against SQL injections
XSS Injection Prevention
Fraud Protection
DDOS Protection
Blacklist Removal (Google, McAfee,
Norton and other)
Email support
Response time 24-48 hours
Buy Now
Premium
24.95 USD/month
---
Price Per 1 Website
Blocking SPAM Bots
Blocking BruteForce Attacks
Web Scraping Protection
Bots White list Database
Daily Database Updates
Website Performance Optimization
Website Antivirus Protection
Daily Malware Scan
SQL Injection Prevention
XSS Injection Prevention
CMS Security Optimization
Fraud Protection
DDOS Protection
Malware Scan
Daily Vulnerability Scans
Advanced Website Acceleration
Website Changes Monitoring
Server Logs Analyze
Blacklist monitoring
WAF Web Application Firewall
High priority website analyze and
cleaning
Email & Live Chat support
Response time 24 hours
Buy Now