INCREASE YOUR WEBSITE SECURITY
BEST WEB SECURITY SOLUTION THAT PROTECTS YOUR WEBSITE AGAINST MALWARE AND HACKER EXPLOITS
FOCUS ON YOUR BUSINESS AND LEAVE SECURITY TO US
---
TIME MATTERS Every three or five days automated backup of website files, databases, and emails. Easy recovery and restoration of your data from previous versions.
24/7 SUPPORT

The problem with so many website security companies is that you never get to talk to a real person. At Siteguarding, our staff is available 24 hours a day, 7 days a week!
YOUR SAFETY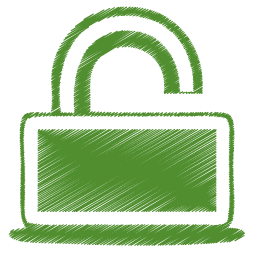 Your safety is our goal. We work hard 24/7 to protect your business and your customers. At Siteguarding we're committed to your complete satisfaction.
Antivirus Scanner
Website Antivirus Scanner is the most effective tool for webmasters and website administrators to detect viruses, malicious code and hacker's activity on website. Our antivirus tells you when your website is hacked or malicious code is installed. It works fast and detects a wide range of malware types: PHP Mailers, Redirects, Backdoors, Trojan horses and other malware.
You can manage your reports, see the list of infected files and request the cleaning services.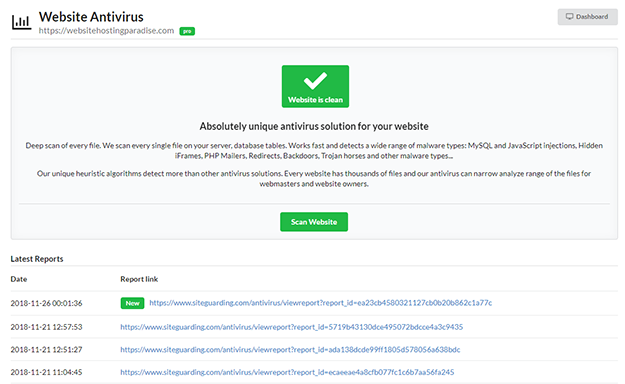 ---
Website Firewall (WAF)
Our web application firewall blocks attacks and hack attempts and protects your site from different types of attacks. It prevents Bruteforce attacks, Zero Day Exploits and other hackers activities.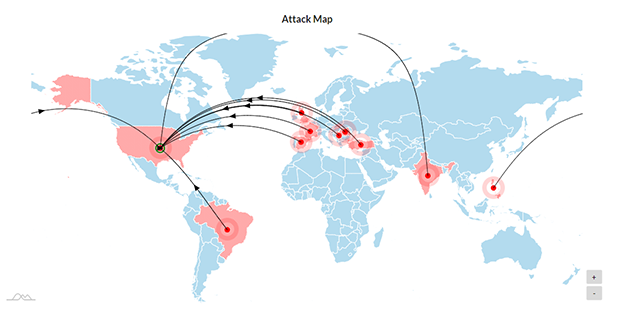 Blocks on fly all unwanted requests, exploits and injections. You can see the map of attacks in real time.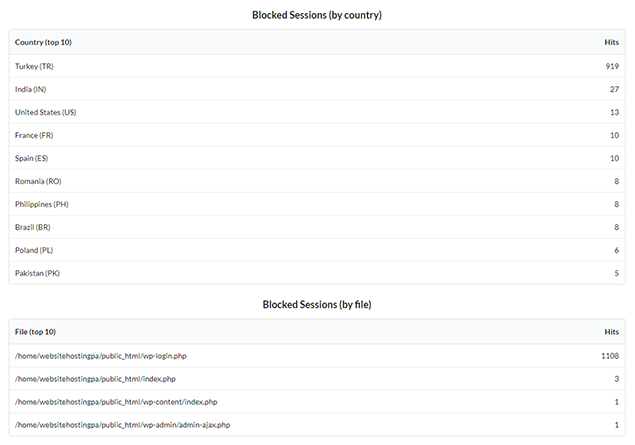 See the list of attackers by country and target files.
---
BadBot Protection
Helps to block unwanted bots, content scraping and reduce the usage of your website and server resources.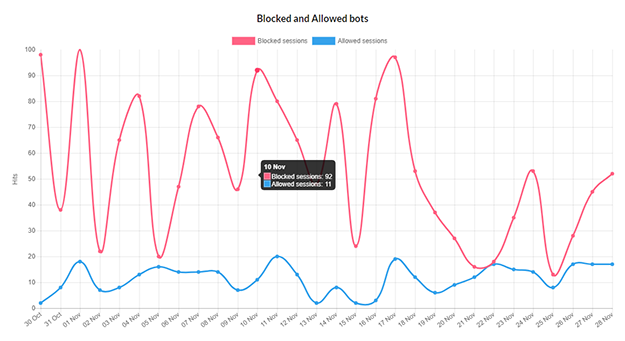 Blocks on fly all unwanted traffic to your website, bruteforce attacks. You can monitor attacks in real time.

See the list of attackers.
---
GEO Protection
GEO Protection Module blocks traffic from unwanted countries.
Manage your blocked countries with few clicks.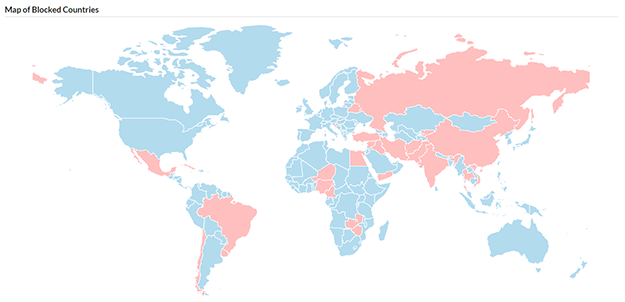 ---
Blacklist Monitoring
Blacklist monitoring service helps to check your website in global blacklists (like Google, Norton, PhishLabs, BitDefender, Kaspersky, Dr.Web and other 60+ blacklists), check your domain reputation and IP address of the server in 100+ spam lists.
Check your website and server IP address with one click.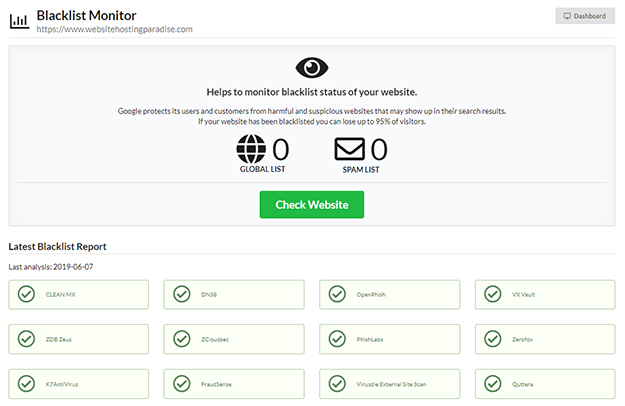 ---
Full Backup
The Siteguarding backup plugin is an automated backup solution that allows you to secure, restore or move your website with ease.
Backup and safeguard your website.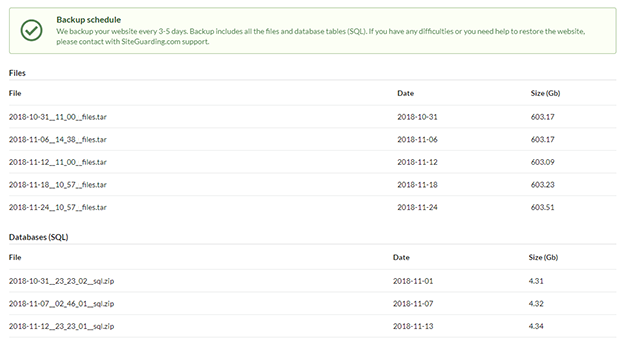 ---
Bruteforce Protection
Helps to block bruteforce attacks to your administrator area. Even with simple administrator password your admin account will be protected.
Creates the wall between admin login page and the hackers.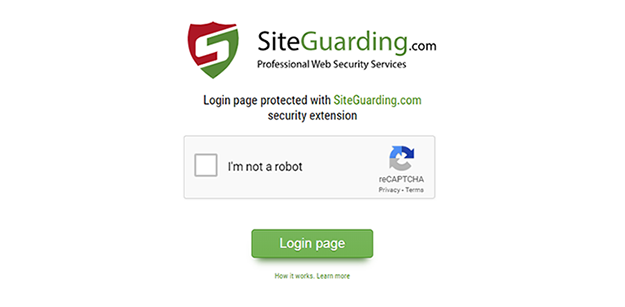 ---
Malware Removal Services
Our security experts are more than happy to help you find and remove any malware and backdoors from your website.
We can clean and help to remove your website from blacklists within 24 hours. Our Search Engine Blacklist Monitoring tool can prevent the loss of search engine ranks.
You will get 14 - 365 days guarantee. During this period we will monitor and log all activity on your website. If we notice any problem, your website will be cleaned up again absolutely free.
---
Secure Hosting
With our secure hosting packages you get website protection and malware removal services absolutely free.
Our hosting plans include: SSL certificate, full backup, full security, free transfer from old server, unmetered bandwidth, optimized for high-traffic, high performance.
Our servers located in USA and Europe. Free transfer from your old server to our server.
---
SSL certificate
Your customers and visitors will know that their browsing session is safe, and personal information is encrypted.
Google recently introduced HTTPS as a ranking signal. Using SSL encryption technology on your website will Boost your Google Ranking! When you install SSL certificate on your site you show your customers that you care about their privacy and security. You don't have to worry about your customer's private information can be stoled anymore.
Your customers and visitors will know that their browsing session is safe, and the payment details and personal information is kept secure and encrypted and will never be stolen.
---
Website Statistics and Server Performance
Looking to optimize the performance of your servers and website? This free powerful tool which lets you monitor, view and analyze server logs with more ease.
A full log analysis enables to show you the following information: Visitors, sessions information, Bots, Crawlers, Errors on the website, Traffic usage, Bandwidth, Top hit by IP, country, Referrers, Analytics of login actions to your administrator area and much more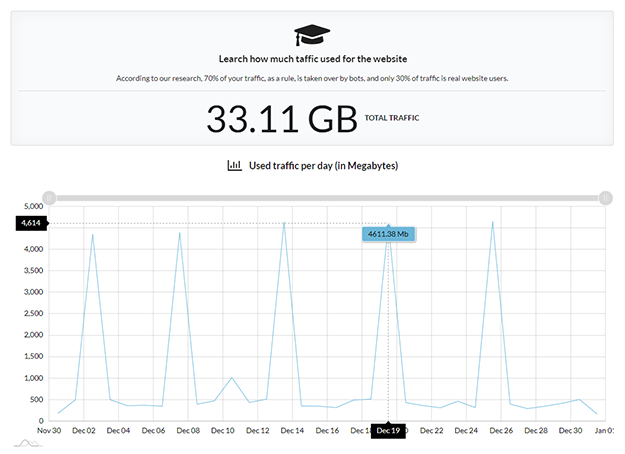 ---