Free CMS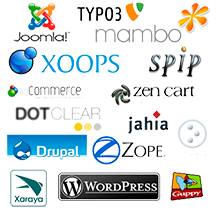 Today free CMS are the most popular on the Web. Among them it is worth to mention Word Press, Joomla and Drupal. These are absolute leaders by the number of websites installed on these website management systems. These CMS work perfectly on websites of any complexity and become the primary aim of hacking attacks. The main difference of such CMS from commercial ones is that they have an open code which means it is easier to find a soft spot and hackers successfully use this opportunity.
Free CMS are updated much more seldom than the commercial ones. That is because web-developers who deal with these systems work on a voluntary basis and often do not hurry to issue new versions of modules and plug-ins.
Consider how frequently you get messages notifying about new versions of the operating system you use. Most of these updates are aimed to eliminate soft spots in the code. However, CMS are updated twice a year or even less frequently.
It is also necessary to note that apart from the CMS itself you use modules and plug-ins developed by other producers which, undoubtedly, makes your website even more vulnerable because you never know how many mistakes a developer has made in the code. And one mistake is enough to get administrator's access to your website; you can find out about the consequences in our article Protection of Your Website.
Visit WordPress official website or that of any other free CMS and find out how many critical updates has been issued during the last year. Than multiply this figure by 10,000 and you will get the number of websites hacked during the year. And these are not thousands but millions of websites. Actually your website is like a PC and the installed CMS is like an operating system. And now remember how often viruses appear from nowhere. And even the latest updates and antivirus fail to save you because it is only a highly-qualified specialist with unique software who can ensure your security. Such software will not only prevent attacks on your websites but will also notify about the activity on your server. Our specialists will react promptly to the threat and will make all the attacks vain.
Protect your website
Your website got hacked and blacklisted by Google? Select Security Package to keep your website clean and protected.
Standard


Just 14.95 EUR/month
Get Protection
Free Installation
Good for small, medium personal and
business websites
Website Antivirus PRO Standard
Heuristic algorithm to detect unknown viruses
Server-side scanning & file change monitoring
Malware cleanup
Attack & Virus detection
Blacklist removal (Google, McAfee, Norton and etc.)
Response time max. 24 hours